Quality auto body repair service you can trust.

Thank you for visiting our new Internet site. As an up-to-date business, we want to give you the opportunity to stay in touch with our company and our services. A new content management system will enable us to always keep you up to date.

Tejas Paint and Body Shop has been family owned since 1981. For over 10 years owner Ruben Barrientos worked for the Insurance field as a special claims adjuster. His vast experience and knowledge has helped Tejas build a mutual rapport and trust between major insurance companys and other auto industry leaders. Our proffessional and knowledgeble staff will help make your claim as pain free and effortless as possible, making you feel like part of the family.

While always up with the latest technology and with a great custmer base facility in Dallas, TX. God, family, integrity, and respect is the foundation of our successful partnerships, clientelle, and the best employees in town

Tejas Paint and Body Shop has established a reputable auto body repair, paint and collision service shop built on reliability and quality, with continuous investment in personnel training and advance equipment, enabling us to do our best, while we efficiently get you safely on the road again. We understand the importance of getting your car back in a timely manner... Which is why no matter how big or small every job is a priority to us.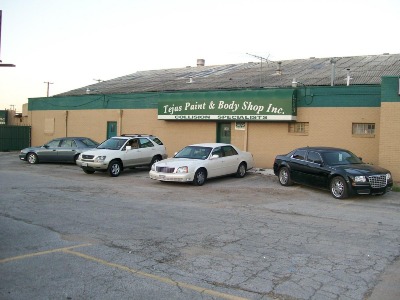 In brief, you should know the following about us: We are proud of our facility, trained professionals, and the quality of work they provide. Every member of our staff has one goal in mind: to treat the customer's vehicles as if it were their own. Stop by and visit us and get a free estimate on your damaged vehicle. It's always a pleasure and we look forward to servicing your car!